Today, there are many, many different style hand trucks available (aka, dollies). We recommend using the heavier duty (ie; 800-1,000 lb) model hand trucks with the ClearPlow® pushers because of the solid, heavy duty construction. They're readily available at most hardware stores and online (We've added links to several stores below).
If you're looking for quality used hand trucks you may have good luck on Facebook Marketplace or CraigsList.
Does it matter if the hand truck tires are air filled or solid tires? No. Either type will work with the ClearPlow® Snow Pushers. Hand trucks with 10" tall tires seem to work best. The main advantage of solid hand truck tires is that they don't require air. As a result, they don't need to be aired up as the seasons and temperatures change. If you have a bicycle air pump, that'll work fine maintaining the proper air pressure. If you'd prefer not to be bothered with inflating the hand truck tires, then the solid tired versions would be the better choice for you.
We do not recommend using light duty, plastic constructed, or convertible hand trucks. Convertible hand trucks have handles that pivot or can be removed and come with additional wheels to allow for using them as a cart. Because of the potential for the handle to come loose, and other reasons — we do not recommend using them with the ClearPlow pushers.
This list does not represent every style hand truck that would work or not work with our products. It is provided only as a guide. If you have any questions as to whether our product would work with your hand truck, please contact us.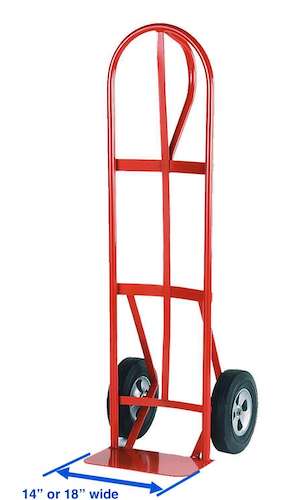 How To Measure Your Hand Truck?

Measure across the lift plate to get the width as shown in image. Our snow pushers will fit heavy duty hand trucks with a 14" wide lift plate, or an 18" wide lift plate. These two sizes are not interchangeable. Please measure prior to ordering. If you have any questions please call or email us.
Hand Truck Styles That Work Well With Our Snow Pushers

We do NOT Recommend These Hand Truck Styles